Skip to content
What Are The Main Differences Between a Wine Refrigerator and a Traditional Refrigerator?
Even the newest wine drinkers know that vino is best served chilled. However, those same people may be confused about why their wine spoils or tastes different when kept in a standard kitchen refrigerator.
That is where wine refrigerators come into play, keeping your beverages stored at their preferred setting to preserve quality and freshness. Now, you might be thinking, what's the difference between these two appliances anyway?
Luckily for you, this post will cover the differences between wine coolers and standard refrigerators. We hope that after reading this, you can decide whether or not investing in a wine refrigerator is the right choice for your home.
Wine Refrigerators Vs. Standard Refrigerators: What's The Difference?
Appearances aside, there are quite a few differences between wine coolers and traditional kitchen refrigerators. Below are the main differences between each:
Wines Should Be Stored At Their Optimal Temperatures
Well, for starters, you should always keep your wines stored at their optimal temperature to ensure freshness. Temperature varies widely from wine to wine. For example, reds are usually kept between 55 to 65 degrees Fahrenheit (13 to 19 degrees Celsius). Meanwhile, white wines are best served when chilled to 50 to 55 degrees Fahrenheit ( 10 to 13 degrees Celsius).
Since most standard refrigerators only have one cool setting, keeping your wines at their optimal temperatures is impossible without impacting the other items in the fridge. That setting typically ranges from 40 degrees Fahrenheit (4 degrees Celsius) or lower. Thankfully, wine coolers are the ideal appliance for doing just that, especially dual-zone wine coolers perfect for storing reds, whites, and everything in between.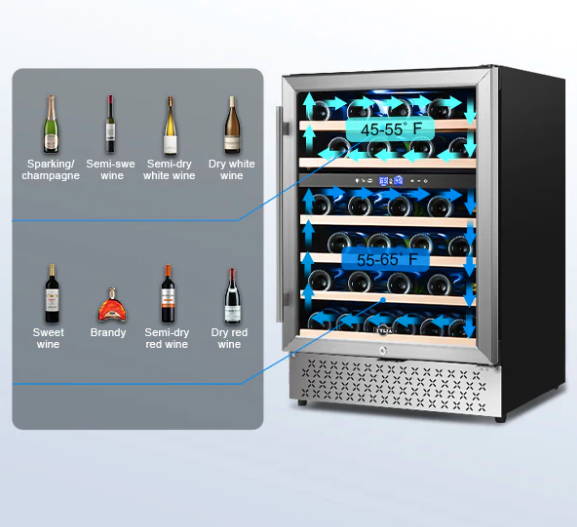 Cross-Contamination Is More Likely In Traditional Refrigerators
Did you know that cross-contamination is the leading cause of wine spoilage? It is ten times easier to contaminate your wines in a standard refrigerator than in a wine refrigerator, as other foods and beverages are stored there. Cross-contamination also impacts wine's aroma, one of the most pleasing parts of the wine drinking process.
Storing your wines in a wine refrigerator ensures that nothing will contaminate your vino. Humidity levels are well-maintained, keeping the cork moist and sealed. In contrast, your household refrigerator suppresses humidity, letting other odors infiltrate your wines via the cork.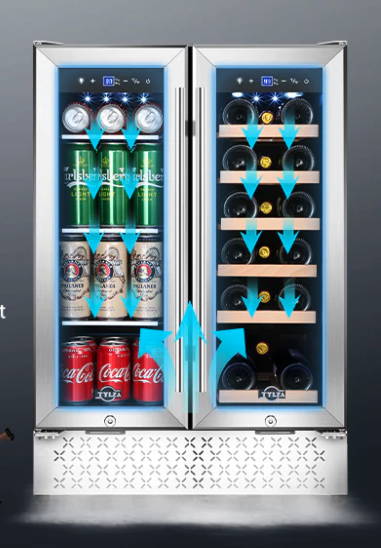 Vibration Can Negatively Affect Your Wines
Standard refrigerators need a motor and compressor to work, ultimately causing subtle vibrations while in use. These vibrations are not only the cause of that pesky buzzing sound you hear when your fridge is due for a compressor cleaning but may negatively affect your wine.
No matter how small, constant movement may disrupt wine's natural maturation. That is why wine refrigerators are designed to keep your wines still, preventing them from diminishing in quality.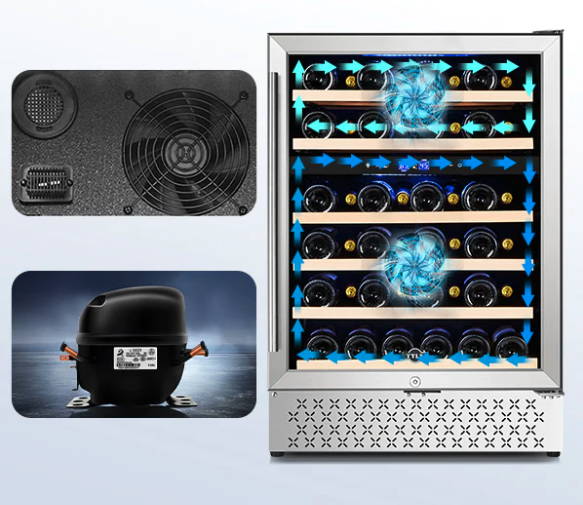 Sunday,Monday,Tuesday,Wednesday,Thursday,Friday,Saturday
January,February,March,April,May,June,July,August,September,October,November,December
Not enough items available. Only [max] left.
Add to Wishlist
Browse Wishlist
Remove Wishlist