Skip to content
How Does A Wine Cooler Work?
So, have you decided to invest in a wine cooler? Congratulations, you will be thankful once you take your first sip of a perfectly chilled glass of Merlot or Pinot Grigio. Temperature-regulated wine refrigerators ensure your wine stays fresh and crisp.
If you are a bit on the fence about wine coolers, it may be due to the fact that you don't understand how they work. Even homeowners with built-in wine coolers might still be confused by the appliance's internal functions.

In this post, we will review how wine coolers actually work. You can benefit from the information below, regardless if you want a wine cooler that utilizes a compression or thermoelectric cooling system.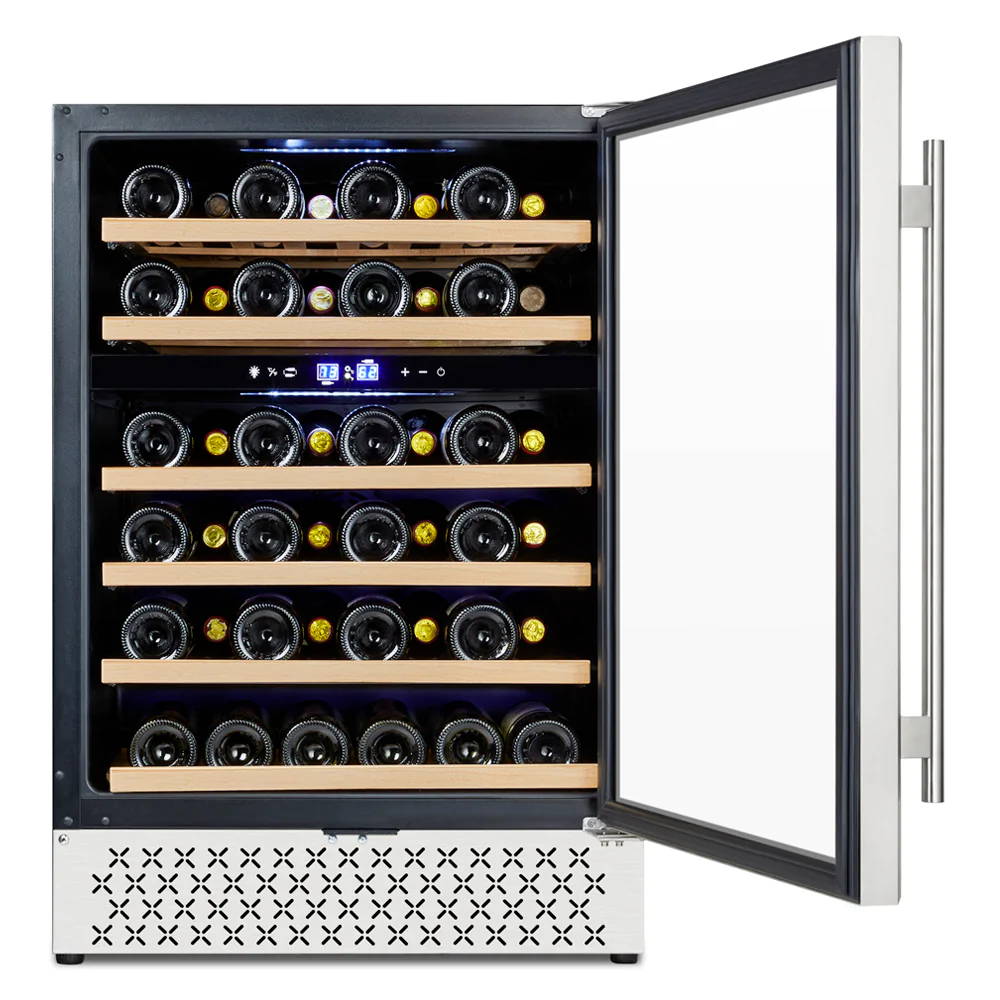 Two Primary Types Of Wine Coolers
Here are the two central cooling systems for wine coolers: compression and thermoelectric. Both types of wine refrigerators have their own pros and cons, which we will dive into further below.
Compression Cooling Systems
Compression wine coolers function with the help of refrigerant, the working fluid that absorbs heat and turns it into cool air. The refrigerant is a gas at room temperature. It then converts into a liquid chemical when heat is applied, essentially relocating the heat to maintain coolness. Using the compressor system, the refrigerant rotates, flowing through the metal coils on the back of the wine cooler. It then expands and goes back through the compressor to restart the cooling process.
Compressors tend to be noisy, as we have heard from that irritable buzzing from our kitchen refrigerators. However, thanks to recent technology, we have developed a quiet, vibration-free compressor for our wine coolers.
Image from @motorhomesforsale.co.nz
Thermoelectric Cooling Systems
Thermoelectric wine coolers keep cool through the Peltier effect. This phenomenon occurs when an electric charge passes through two pieces of connected metal, generating heat (or, more specifically, a thermal flux).
Unlike compression cooling systems, thermoelectric wine coolers do not require chemicals or refrigerants. Refrigerant poses many harmful effects on our environment. With that being said, electric coolers cannot maintain as low temperatures as compression-based cooling systems due to the lack of refrigerant.
Image from @Laird Thermal Systems
Compressor Wine Coolers vs. Electric Wine Coolers: Which Is Better?
In all honesty, both compressor and electric wine coolers are excellent choices for your home. Those who prioritize sustainability may prefer an electric wine refrigerator since they are more eco-conscious without refrigerant. They are also much quieter than compression wine refrigerators since the compressor is the main culprit for humming noises.

On the other hand, compressor wine coolers are usually colder, which comes in handy for storing different varieties of wines at their optimal temperatures. They can also double as storage for other beverages and snacks, similar to Tylza's beverage coolers.
In summary, we are sure that you will enjoy either one. A wine cooler is an incredible investment piece for serious wine lovers, especially those with extensive collections. So, using the information above, you can decide whether compression or thermoelectric wine refrigerator is best for your home.

Sunday,Monday,Tuesday,Wednesday,Thursday,Friday,Saturday
January,February,March,April,May,June,July,August,September,October,November,December
Not enough items available. Only [max] left.
Add to Wishlist
Browse Wishlist
Remove Wishlist